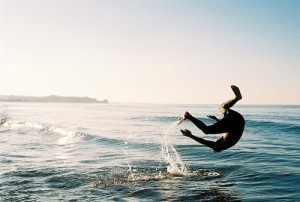 OK, so how much detail in my online profile should I include about myself? There is no right answer but take a look through some of the profiles that are already there on the site. Yeah it feels weird searching thru the male profiles but just check first that your flatmate is not looking over your shoulder and go for it and take a look at a few random male profiles. Most will have very little about themselves. Some will have way too much and have you thinking  'what a tosser' within the first 2 paragraphs… Somewhere in between  should be about right, but there is no perfect answer. Some ladies will love that you have opened yourself up and will read it all, hanging on every word, falling deeper and deeper in love with each paragraph. Others, like us males, will see more than 2 paragraphs and think 'sod this' and skip right to the next profile.
Remember you don't have to do what everyone else is doing, and being totally different to everyone else can sometimes work wonders. And you can change it later anyway if you aren't getting the expected results. My suggestion would be is to write a few, well thought out, paragraphs. Check first  to see if there is a word limit or how it is structured. The last thing you want is to write a brilliant masterpiece only to find it is too long and won't be accepted. Write it in your favorite word processor or something with a spell checker. Many sites will have spell checking incorporated but they are not as good as Word or whatever you use. And please use it. Nothing worse than basic spelling mistakes. And check your grammar. Know the difference between 'their' and 'there' and if you don't just google it. Its not hard and you will immediately come off as uneducated it you get it wrong.
So write a few paragraphs about yourself. Sorry guys, the love walking on the beach under the moonlight has already been taken and no longer has them swooning. Just be honest but not too honest. They are not going to fall head over heels with your profile if you say you love to fart in bed and your favorite pastime (second to watching porn) is to drink until you pass out. Make sure you say only the good things about yourself. They are going to find out your bad habits soon enough. Maybe show them your sensitive side. Try and re read your profile from a woman's point of view. They want someone who can look after them, someone who can make them laugh, someone dependable who will put them first and someone with a lot of money…just kidding… it certainly helps but most have money way down on their list.
Get a female friend if you have one that you can confide in to read your newly written profile through and get her opinion. But remember it is just one woman's opinion, but I can guarantee you that it will be worth more than your opinion, so listen to and take action on her suggestions.
Good luck out there and remember if you aren't attracting a heap of responses then change it up a little….or a lot.
Related:     Hot Tips   |   Body Language   |   Single Dads    |   Dating Profile    |   Courtship   |   Avoiding Turnoffs   |   Dating Trends    |   Shy People   |   Dating Rules    |   Senior Tips  |   Reality Shows    |   Do's and Don'ts   |   Scandalous Shows    |   Top 5 Sites   |   Free Online Dating    |   Christian Dating   |   Gay