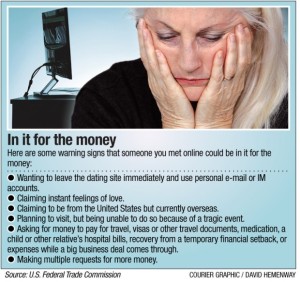 What are the red flags to watch out for with online dating? Very simple. Just think with your head and not with your you know what.
Step back and look at her profile and letters from a neutral point of view. If she sounds too good to be true then she is. Simple as that. Walk away.
Does she fall in love with you after 2 -3 mail exchanges….and you know your writing is not that good.
Is she presently out of your country for some reason but of course coming back soon.
Does she love everything about you even though you are just a normal guy with faults.
Has she asked you for money no matter how small an amount. This is a common ploy to suss you out. If you give a small amount then they know they can get more and will keep going with every excuse in the book until you have nothing left and will even have you borrowing to give her more.
She needs some money for a flight to see you. She isn't going to arrive buddy. Face it.
Does she suddenly need money for an urgent operation for her or a family member of hers.
Has she been robbed and has no money or is left stranded somewhere and needs you to send some money urgently.
Does she want you to send money via Western Union. This is most popular as there is no way to claw it back and they only need to give a name (any name) to collect it is any country so is effectively untraceable.
Is her English not that good. Not in itself a problem but should be a red flag is she says she is from your English speaking country.
Watch for slips ups in what she says in her letters. Are they sounding generic and not really answering questions that you ask, or vague. Remember these guys, and yes often are guys, are corresponding with many more than just you and its hard to keep track of it all. Make sure you keep all correspondence so you can refer back. Try and catch them out, maybe by referring to something they didn't actually say so they will assume they had and build on that lie.
Is her photo or photos too perfect. Copy one, cntrl C and paste it into the find box on images.google.com You may be will surprised at where her photo appears and the different names it comes up under. Get her to send a photo that is up to date with something in the background which you can recognize or better still Skype chat. This makes is way more difficult if she is a guy, but remember this can still be fudged where the actual girl in the photo is known to them and can be made available for a quick chat before the internet connection drops. Don't be fooled that 'she' is more than happy to Skype with you, and therefore must be real in your eyes, but always has an excuse at the last minute near the pre-arranged time… the power has suddenly gone off, the internet is down, computer problems and their favorite, the camera is broken. They are smart enough to not balk at a Skype request to raise your suspicions but then never actually complete the request with several quite believable excuses at the last minute. You will be surprised at how inventive they are with plausible excuses and sure they share them around when they come up with a great one.
Just keep your eyes open and treat them all with immense suspicion until you are certain she is for real so you don't fall for any online dating scam. Remember they can spend several months grooming you as they are dealing with many mugs like you all at the same time. They can afford to take their time when they can get hundreds of thousands of dollars from some and even more in some instances. Not a bad hourly rate….
Related: Hot Tips | Body Language | Single Dads | Dating Profile | Courtship | Avoiding Turnoffs | Dating Trends | Shy People | Dating Rules | Senior Tips | Reality Shows | Do's and Don'ts | Scandalous Shows | Top 5 Sites | Free Online Dating | Christian Dating | Gay